Schaeffler at AAPEX 2023 (Booth No. 2232)
Your Business is our Focus: Schaeffler Features Automotive Repair Solutions and Future Technologies at AAPEX 2023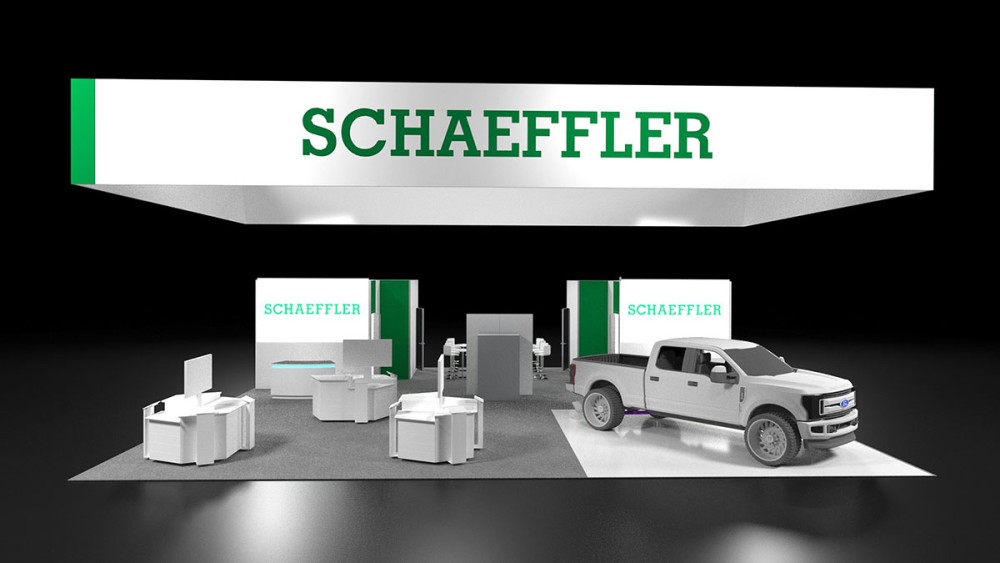 2023-10-26 | Fort Mill, South Carolina
Schaeffler's AAPEX theme is "Your business is our focus"
Technologies on display feature repair solutions for today and tomorrow's automotive aftermarket needs
Demonstrator vehicle showcases electric mobility, battery technology and thermal management capabilities
Global motion technology company Schaeffler will be demonstrating its automotive aftermarket solutions at the AAPEX show, hosted at the Venetian Expo in Las Vegas from October 31 to November 2. Under the theme, "Your business is our focus," Schaeffler will be hosting customers and industry partners at its booth, showcasing products and service solutions that enhance the vehicle's life cycle, as well as technologies that support the transition to electric mobility.
Over the past few years, Schaeffler has extensively invested in the expansion of its product portfolio and operations to better serve the automotive aftermarket industry. The company is focused on providing its customers the right solutions at every stage, serving the internal combustion engine (ICE) vehicles of today as well as the hybrid and battery electric vehicles (BEV) of tomorrow.
Engine Portfolio Highlights:
Under the INA brand, Schaeffler aims to be the OE premium partner to provide engine repair parts for ICE and future propulsion systems.
Schaeffler will be demonstrating valvetrain technologies as well as its expanding lines of timing chain kits and front-end auxiliary drive (FEAD) kits, and thermal management modules.
Chassis Portfolio Highlights:
Schaeffler will demonstrate the progression of individual bearings, Gen1, that required specialized tools and extensive expertise to install, to Gen2 and Gen3 bearings, which add innovative designs that improve performance and ease of installation as well as incorporating more functionality such as ABS and harnesses.
The company will feature future chassis mechatronics which have more fully integrated components that improve performance and added modularity – products include Schaeffler's intelligent Rear Wheel Steer (iRWS), intelligent active roll control (iRAC), its TriFinity™ wheel bearing – specifically designed for BEVs, and its active roll stabilizer.
Transmission Portfolio Highlights:
The LuK brand encompasses Schaeffler's transmission products of today, which include the RepSet™ and Torque Converter product lines – the only OE solution of its kind to be offered in the aftermarket.
Schaeffler's transmission business also focuses on providing solutions for future transmission technologies as the industry moves toward hybrid and BEV – developing components, modules, and systems such as electric motors and electric axles.
Onsite REPXPERT Training:
Schaeffler's REPXPERT online platform is the mechanic's go-to tool for information about products, repairs, and maintenance.
Schaeffler will host trainings on timing chain installation and problem fixing for the GM high-feature 3.6L V6 engine.
Trainings will include basic teardown and installation with step-by-step instructions, checking for proper timing alignment marks, and special tools required.
Sessions will take place at the Schaeffler booth and available on demand during and after the show.
Electric Mobility Demonstrator Vehicle:
In addition to today and tomorrow's engine, chassis and transmission solutions, Schaeffler will be showcasing its newly developed electric mobility demonstrator vehicle. The modified medium-duty truck integrates the electric motor and gearbox on an 800-volt 3in1 electric beam axle, including a Schaeffler developed electric motor (a core competency). The electric beam axle is the first of its kind for the company, developed specifically for light and medium-duty commercial vehicles. The demonstrator vehicle also features Schaeffler's battery packs and thermal management modules.
Electric Mobility Thought Leadership:
As part of AAPEX's EV Trends and Outlook, Schaeffler will be presenting insights on its latest electric vehicle technologies and how the company is preparing for the future. Noah Kee, Group Leader for Hybrid Module Design, will present on Wednesday, November 1 from 2-2:30 p.m. at the EV Experience Stage in booth J 7409 on Level 1.
About AAPEX
AAPEX is the main automotive aftermarket industry event in the U.S. targeting a global community of auto parts & technology suppliers, distributors, and retailers. For more information about AAPEX, please visit: www.aapexshow.com.
Schaeffler is located in booth #2232 at the Venetian Expo in Las Vegas, Nevada.
Publisher: Schaeffler Group USA Inc.
Country: USA
Share Page