Ameresco and Schaeffler Aerospace Canada Inc. Announce Collaboration for Clean Cooling, Heating and Air Quality Decarbonization Project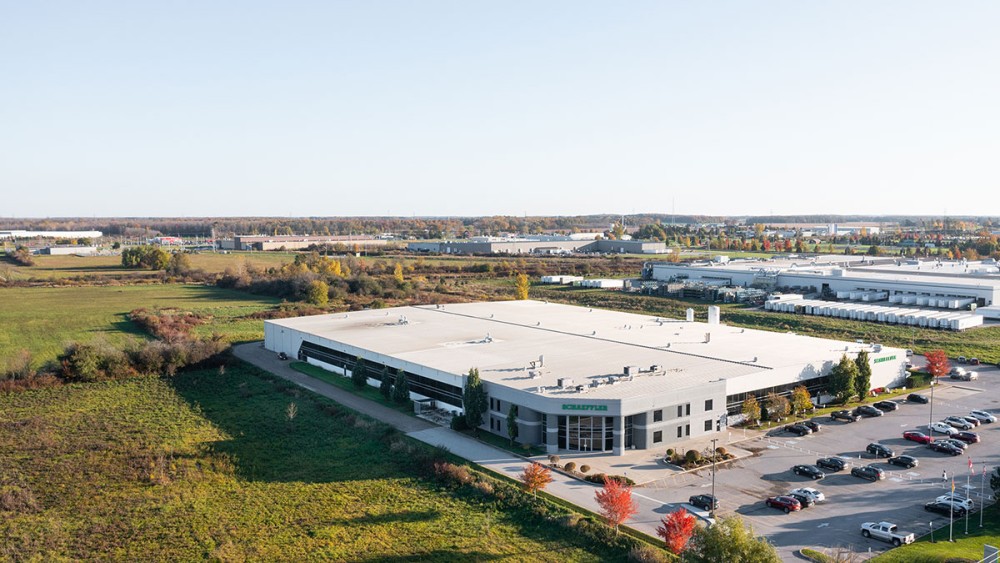 2023-10-16 | FRAMINGHAM, MA / STRATFORD, ONTARIO
Project designed to produce 1,180,000 kWh electrical savings, 29,650 m3 natural gas, and generate 103 metric tons of GHG emission reduction (15%) at Stratford, Ontario plant location.
Ameresco, Inc., (NYSE: AMRC), a leading cleantech integrator specializing in energy efficiency and renewable energy, has announced the launch of a new large-scale energy efficiency project involving cooling, heating, and air quality solutions with Schaeffler Aerospace Canada Inc., a sector of the motion technology company, the Schaeffler Group.
The project, which began in April 2023, will see the installation of a new high efficiency chiller & boiler system to serve new air handling units at Schaeffler's Stratford, Ontario plant site. The new air handling units are replacing five aging DX cooling/gas heating air handling units and are equipped with chilled water cooling, hot water heating, and variable speed fans. The project will also update the existing Building Automation System to integrate control of all of the new High-Efficiency Heating, Ventilation and Air Conditioning (HVAC) System HVAC equipment.
"This project stands out for its scope and complexity, but we are up for the challenge. Our team will work closely with Schaeffler's team to ensure minimal disruption during the installation process and ensure that the new systems are fully optimized for maximum performance," said Bob McCullough, President of Ameresco Canada. "What's unique about the project is the significant improvement it will bring to the building's indoor air quality, comfort, energy efficiency, and cost savings. The project's scale and complexity also make it a challenging but exciting endeavor for the HVAC team involved. The team's expertise and dedication to delivering seamless installation and optimization of the new systems highlight the project's importance and impact."
"We are thrilled to be officially launching this collaboration with Schaeffler Aerospace Canada," said Louis P. Maltezos, Executive Vice President of Ameresco, Inc. "Beyond their dedication to developing and producing high-precision bearings, components and systems for aerospace and automotive technology, Schaeffler has a clear commitment to helping foster a healthier planet by significantly decreasing their greenhouse gas emissions. Ameresco is proud to be able to support them in that effort."
The project is designed to result in the generation of 1,180,000 kWh of electrical savings, as well as 29,650 m3 natural gas and 103 metric tons of greenhouse gas emissions reduction.
"With the launch of this new partnership, we want to show that we're resolutely committed to maximizing sustainability and reducing our carbon footprint," said Brad Dineley, Senior Vice President of SAP Integration & Sustainability. "The new energy efficiency solutions will not only provide some significant improvements to our indoor environment but will also put us on the path toward helping us meet the ambitious environmental goals we set for ourselves."
To learn more about Ameresco and the company's clean energy solutions, visit www.ameresco.com. To learn more about Schaeffler Aerospace Canada, visit https://www.schaeffler.us/us/.
About Ameresco, Inc.
Founded in 2000, Ameresco, Inc. (NYSE:AMRC) is a leading cleantech integrator and renewable energy asset developer, owner and operator. Our comprehensive portfolio includes solutions that help customers decarbonize to net zero and build energy resiliency while leveraging smart, connected technologies. From implementing energy efficiency and infrastructure upgrades to developing, constructing, and operating distributed energy resources – we are a trusted sustainability partner. Ameresco has successfully completed energy saving, environmentally responsible projects with Federal, state and local governments, healthcare and educational institutions, housing authorities, and commercial and industrial customers. With its corporate headquarters in Framingham, MA, Ameresco has more than 1,300 employees providing local expertise in North America and Europe. For more information, visit www.ameresco.com.
Publisher: Schaeffler Group USA Inc.
Country: USA
Share Page