Schaeffler Wins Two 2021 Automotive News PACE Awards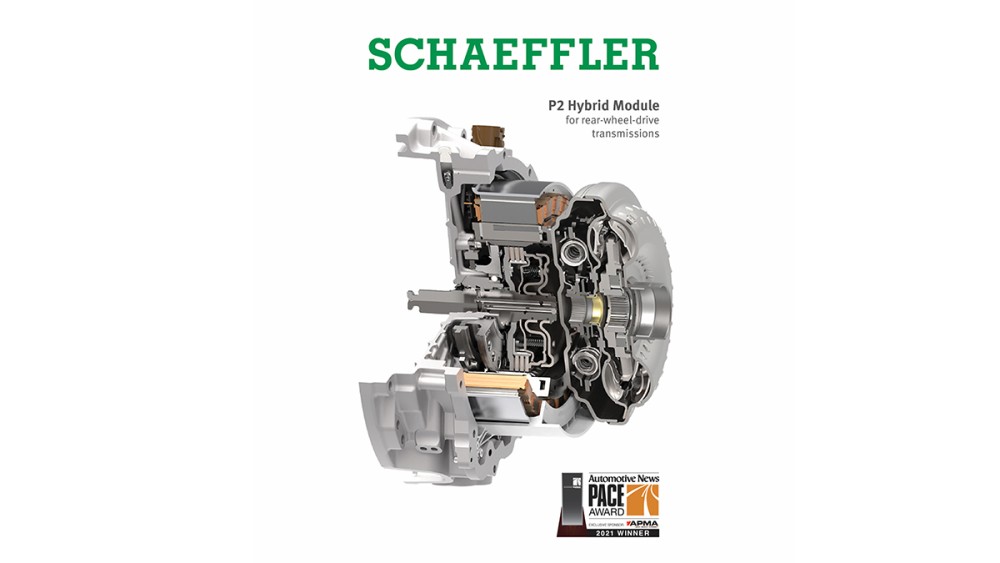 2021-10-01 | TROY, (MI)
Schaeffler was named a 2021 Automotive News PACE Award winner at the online awards ceremony on September 30 for its P2 Hybrid Module for rear-wheel-drive transmissions. The prestigious award recognizes automotive suppliers for superior innovation, technological advancement and business performance.
The company, together with Ford Motor Co., also received an Innovation Partnership Award in recognition of their collaboration in the development of the system. According to Automotive News, this award recognizes automakers that do an exceptional job of collaborating with a supplier to develop an innovation in an effective way.
Schaeffler's hybrid module is an achievement in design and packaging. The module houses an electric motor and disconnect clutch that is mounted between an engine and transmission. By integrating the electric motor with the torque converter, Schaeffler was able to produce the module on an existing transmission assembly line and make it compact enough to fit a variety of vehicle platforms.
"We're pleased to be honored with two prestigious Automotive News PACE Awards this year, as this honor underscores Schaeffler's core commitments to innovation and customer collaboration," said Patrick Lindemann, President, Transmission Systems, E-mobility and Chassis at Schaeffler. "I congratulate our P2 Hybrid Module team for developing a next-gen technology that is adaptable to fit today's infrastructure."
The 27th annual PACE Awards were presented by Automotive News and the Automotive Parts Manufacturers' Association (APMA). The competition was open to suppliers that contribute products, processes, materials or services directly to the manufacture of cars or trucks. The Automotive News PACE Award is accepted around the world as the industry benchmark for innovation.
Schaeffler earned an Automotive News PACE Award following an extensive review by an independent panel of judges including a comprehensive written application and a virtual site visit. This is Schaeffler's third PACE Award win in the past five years, two of which for e-mobility solutions.
For complete details of the Automotive News PACE Award, visit www.autonews.com/pace.
Schaeffler is a recognized development partner for global automakers and suppliers. To serve the North American automotive market, Schaeffler operates development centers in: Troy, Mich.; Fort Mill, S.C.; Wooster, Ohio; and Puebla, Mexico. The company's 600 North American engineers and technicians, who are supported by a team of more than 6,700 global R&D engineers, drive development in the region by utilizing state-of-the-art test and measurement equipment, computational tools and CAD systems. Schaeffler Automotive has headquarters in Fort Mill and manufacturing facilities in: South Carolina; Missouri; Ohio; Ontario, Canada; Puebla and Irapuato, Mexico. For more information, please visit Vic www.schaeffler.us.
Publisher: Schaeffler Group USA Inc.
Country: USA
Share Page