Schaeffler Launches First North American SHARE Program at The Ohio State University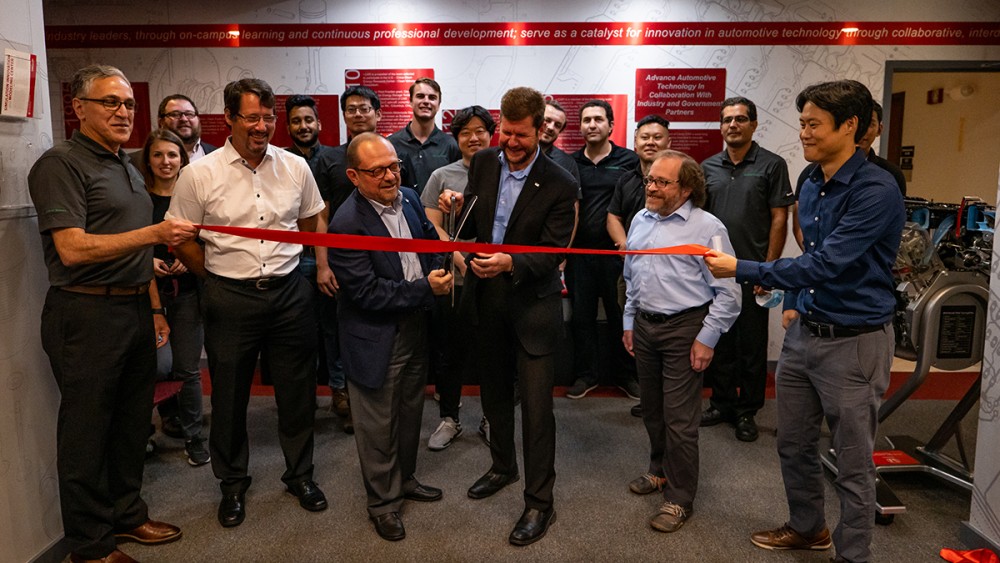 2021-08-26 | WOOSTER, Ohio
Schaeffler and OSU collaborate on the first North American Schaeffler Hub for Advanced Research (SHARE) Program
Program dedicated to advancing energy storage technology by working with students and professors on solid state battery and fuel cell technology
Schaeffler has several successful SHARE programs in Europe and Asia, each with a distinct focus
In collaboration with The Ohio State University (OSU), Schaeffler recently launched its first Schaeffler Hub for Advanced Research (SHARE) Program in North America. Located on the Ohio State campus in Columbus, Ohio, the collaborative program begins in August and will focus on all solid-state electrolyte (ASSE) battery development with future plans for fuel cell research and development.
Schaeffler's e-mobility team – Patrick Lindemann, president of BD transmission systems and e-mobility; Jeff Hemphill, chief technical officer; Philip George, director, region innovation; and Rashid Farahati, director of wet friction material and surface technologies – recently joined Ohio State's Center for Automotive Research (CAR) team to celebrate the kickoff of the program.
"This program is an ideal way for Schaeffler to inspire and foster the next generation of automotive and mobility engineers," said Jeff Hemphill, CTO, Schaeffler Americas. "Building on the success of our established international programs, we hope our work with OSU will expand the current state of ASSE and fuel cell technology, which we believe are key components for the future of mobility."
The SHARE program uses the "company on campus" concept that includes dedicated offices for full-time Schaeffler employees at the university to foster a close collaboration between Schaeffler employees, university researchers, Ph.D. candidates and students.
As part of the initial program, Schaeffler is sponsoring a Ph.D. student who will also be an integral part of Schaeffler's on-site team. Supporting a Ph.D. candidate who will concurrently focus on ASSE battery manufacturing development is yet another example of how the SHARE program advances e-mobility innovation while also giving back to higher education.
The SHARE program at Ohio State builds on Schaeffler's long-term commitment to supporting academic and economic growth in the state of Ohio. Schaeffler and Ohio State have previously collaborated on several research initiatives – including the GearLab and as a member of the CAR Consortium – to drive technology advancements and promote the automotive field with a particular focus on e-mobility. These collaborations are a key component of Schaeffler's commitment to fostering the next generation of mobility engineers while helping stimulate the innovations needed to support the evolving auto industry.
"This SHARE program is an excellent initiative and an ideal model for academia – industry collaboration. I believe that the impact of this initiative on research and education will be invaluable in preparing Ohio State students to be the next-generation leaders in energy storage and vehicle electrification," said Giorgio Rizzoni, Professor of Mechanical and Aerospace Engineering (MAE) and Director of CAR.
"All solid-state electrolyte (ASSE) battery will be a breakthrough for the next-gen electric vehicles technology. Through the SHARE program, Schaeffler and Ohio State will be able to innovate and develop jointly the manufacturing processes of ASSE battery that can be upscaled and implemented to electric vehicles," said Jung-Hyun Kim, Assistant Professor of MAE and Associate Fellow at CAR.
The Ohio State University is Schaeffler's fifth SHARE program presence globally and the first in the Americas. The other SHARE programs include partnerships with:
the Karlsruhe Institute of Technology (KIT) in Germany focusing on electric and automated mobility;
Friedrich-Alexander-Universität Erlangen-Nürnberg (FAU) in Germany focusing on digitalization and data science;
Nanyang Technological University (NTU) in Singapore focusing on robotics and Industry 4.0; and
Southwest Jiaotong University (SWJTU) focusing on interurban mobility, especially railway technology.
For more details, please visit: Schaeffler's SHARE Network.
Publisher: Schaeffler Group USA Inc.
Country: USA
Share Page