Schaeffler Automotive Aftermarket Announces Grand Opening of New Facility in Strongsville, Ohio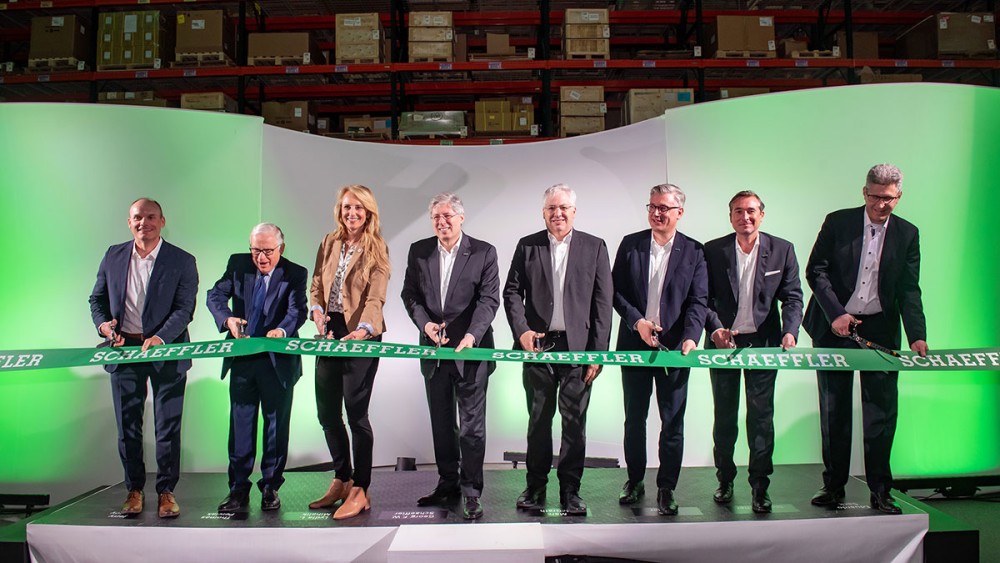 2023-06-21 | Troy, Mich.
Grand opening event and ribbon cutting ceremony with key stakeholders
State-of-the-art facility includes office, warehouse and distribution center
New location enables further growth of aftermarket business and product portfolio
Leading global automotive and industrial supplier Schaeffler Automotive Aftermarket hosted a grand opening event for its new office, warehouse and distribution center in Strongsville, Ohio, on June 1. The 250,000 square-foot facility represents the continuing growth of Schaeffler's North American Automotive Aftermarket operation and expansion of its product portfolio.
"The grand opening of our new Strongsville aftermarket facility celebrated Schaeffler's continued commitment to our automotive aftermarket business. The new location enables us to better accommodate growth in the North American market," said Jerry Conroy, Vice President USA & Canada Automotive Aftermarket at Schaeffler. "We are grateful to our team members, customers, partners and community leaders for taking part in this special event in recognizing the significance of this achievement."
The event included special remarks by Georg F.W. Schaeffler, Family Shareholder and Chairman of the Supervisory Board, as well as Lydia Mihalik, Director of the Ohio Department of Development. A ribbon cutting ceremony was followed by a tour of the facility for the nearly 100 guests in attendance.
The Strongsville facility, which is approximately five miles from Schaeffler's former aftermarket operation in Valley City, consolidates Schaeffler's automotive aftermarket activities under one roof to better address customers' increasing orders and expanding requirements. This consolidation of operations also contributes to Schaeffler's target of climate neutrality by eliminating internal transport and helping reduce the company's carbon footprint – the Schaeffler Group has committed to carbon neutrality by 2040.
The state-of-the-art facility adds more space to Schaeffler's North American aftermarket operation – almost 110,000 square feet – and features an optimized layout to enhance material flow from inbound to outbound to increase speed and efficiency. This enhancement will better support increasing customer requirements such as express ordering and the ability to process small and large orders more efficiently.
In terms of business growth, Schaeffler has actively expanded its product portfolio and brought to market several key solutions over the last few years. Considering the future of mobility, the company is starting to offer repair solutions for hybrid and electric vehicles' powertrain needs, leveraging its e-mobility expertise. Other key product portfolio expansions include the independent automotive aftermarket's first new (not rebuilt) replacement torque converter program, as well as timing chain kits that cover a majority of vehicles on the road in the U.S. and Canada.
Schaeffler's Automotive Aftermarket division focuses on worldwide spare parts business and providing intelligent repair solutions for professional repair of passenger cars, light and heavy commercial vehicles, and tractors. The company offers solutions for transmission, engine and chassis applications, respectively, under its LuK, INA and Schaeffler product brands. Additionally, its REPXPERT service brand provides comprehensive services to repair shops by conducting technical trainings, offering repair assistance via a hotline and a garage portal, and by developing special tools.
For additional information about Schaeffler's portfolio of products and services for the North American automotive aftermarket, visit: www.aftermarket.schaeffler.us.
Publisher: Schaeffler Group USA Inc.
Country: USA
Share Page