EVENTS
CAREERS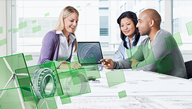 AUTHORIZED INDUSTRIAL DISTRIBUTORS
BEARINX®-ONLINE
EASY LINEAR
The free of charge BEARINX®-online module for calculation of INA monorail guidance systems
STOP FAKE BEARINGS
Schaeffler takes part in the World Bearing Association's (WBA) campaign launched 2 November. View campaign site at www.stopfakebearings.com
PUBLICATIONS

Catalog | 2008-12
Product Reference Guide

medias® 5.0
PRODUCT CATALOG
Quickly and easily with our selection assistants:
medias® product selection and information system has been completely revised.
PUBLICATIONS
Catalog | 2009-11
Large Size Bearings
Ball bearings Roller bearings Back-up rollers Spherical plain bearings Bearing housings Accessories
Welcome To Schaeffler Group North America
Schaeffler Group North America is responsible for the engineering, production, sales and marketing for the INA, LuK, FAG and Barden brands throughout the United States, Canada, Mexico, Central America and the Caribbean. Manufacturing a full line of rolling bearings, engine and drivetrain components, linear motion products, precision products and plain bearings, we service the Automotive OEM, Industrial OEM and Distribution markets, as well as the Aerospace industry. Our extensive product portfolio is further supplemented by a full range of condition monitoring and maintenance products to support your overall bearing maintenance requirements.
Current messages
2012-04-24 | PRESS
Schaeffler Receives 2012 PACE Award for UniAir System
Schaeffler was named a 2012 Automotive News PACE (Premier Automotive Suppliers' Contribution to Excellence) Award winner for its UniAir fully variable valve lift system during an award ceremony held April 23 in Detroit.
Honored with Innovation Partnership Award for Collaboration with Fiat Powertrain, Chrysler Group
2011-08-01 | PRESS
Schaeffler receives Supplier Award from Porsche for successful cooperation
Schaeffler has been awarded the 2011 Supplier Award by Porsche. The most important components for Porsche's variable valve control system Porsche VarioCam Plus were among the products praised during the award ceremony.
Outstanding achievements for success
2011-05-20 | LIBRARY
Bearing Solutions for Large Size Machinery
The general trend towards plant with higher productivity is also apparent in larger production systems. As a result, there is increasing demand for correspondingly high performance components and subassemblies of larger dimensions.
TPI 205
2011-02-22 | LIBRARY
Metal/Polymer Composite Plain Bearings
Metal/polymer composite plain bearings are bearings for very small radial or axial design envelopes. They run with little noise and are particularly suitable where high loads in conjunction with relatively slow rotary and swivel motion must be supported. These products are available as bushes, flanged bushes and thrust washers in two material groups.
Maintenance-free Low-maintenance Special designs, special materials