Schaeffler's vocational training programs honored in the Career Development category
Schaeffler's Apprenticeship Programs Recognized with Association for Talent Development's Prestigious 2017 "Excellence in Practice Award"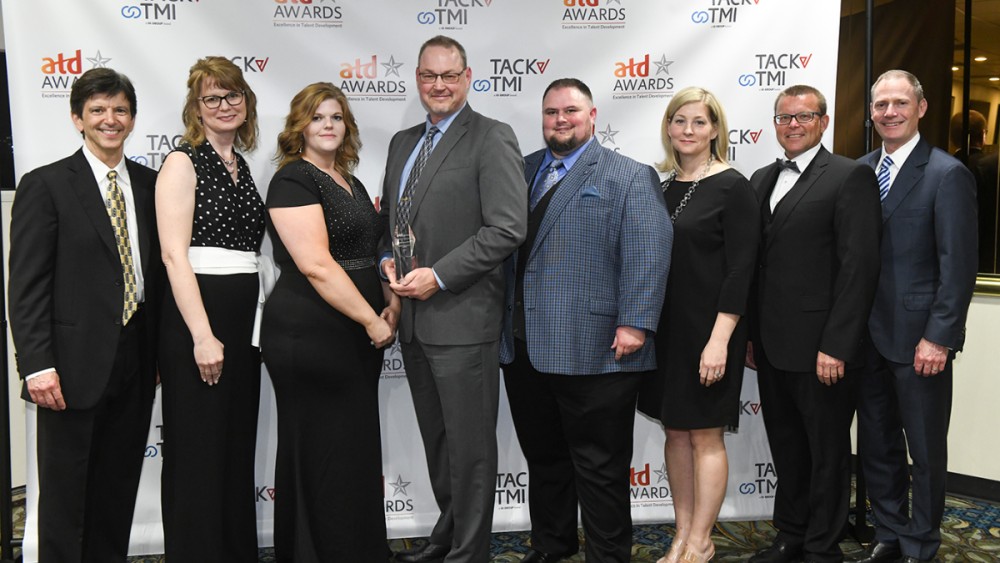 2018-05-15 | Fort Mill
Global industrial and automotive supplier is honored for its successful vocational training programs that are based on the German "dual system" of learning, which combines on-the-job training with classroom instruction. Schaeffler has offered apprenticeship programs to its employees in the Americas for many decades.
In recognition of its industry-leading apprenticeship programs in the Americas, Schaeffler received the highly regarded "Excellence in Practice Award" in the Career Development category from the Association for Talent Development (ATD). Formerly known as the American Society for Training and Development and active in over 125 countries, ATD is the world's largest professional organization dedicated to workplace learning. Schaeffler accepted the award, which recognizes exemplary practices in workplace learning and talent development, at the ATD International Conference and Exposition in San Diego, California, on May 8, 2018.
A long history of apprenticeship programs in the Americas
As a family company, the Schaeffler Group is committed to the continued education of its employees, because the key to Schaeffler's manufacturing success – not just in the Americas, but throughout the world – is a well-trained workforce. To that end, Schaeffler facilities in North and South America have offered apprenticeship programs for more than five decades.
"Every Schaeffler apprenticeship program is based on the German 'dual system' of learning, which combines on-the-job training with classroom instruction – typically at a nearby vocational school," explained Jim Jones, manager - technical training and apprenticeship programs for the Americas region. This enables the successful apprenticeship graduate to seamlessly step into his or her role as a full-time Schaeffler employee, thanks to the excellent foundation gained as a result of the comprehensive theoretical and practical preparation.
Prepared for the manufacturing challenges of the future
"This is a significant accomplishment for the company and for everyone involved in our apprenticeship programs," said Greg Tinnell, senior vice president, human resources Americas. "Manufacturing technology is becoming increasingly complex, and having our vocational training programs receive this kind of recognition shows that we are not just trying to stay on top of this technology wave, we are trying to get ahead of it. The effort that has gone into our apprenticeship programs in the past has laid a solid foundation for where we want to carry them into the future."
To learn more about job opportunities and apprenticeship programs with Schaeffler, visit the company's careers page online.
Publisher: Schaeffler Group USA Inc.
Country: USA
Share Page