FURTHER INFORMATION
Extend your warranty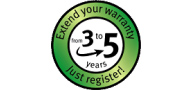 PUBLICATIONS
Software | 2012-05
FAG Heating Manager (32-Bit) - Select the right heating device easily and quickly

Software | 2015-07
FAG Heating Manager (64-Bit) - Select the right heating device easily and quickly

Technical Product Information | 2012-05
FAG Heating Devices for the Mounting of Rolling Bearings
Induction heating devices HEATER and heating plate HEATER-PLATE
Brochure | 2012-04
FAG Induction Heating Devices HEATER
Quality and Safety Redefined
CONTACT
Thermal tools
Induction heating devices
The induction heating devices HEATER for bearings up to a mass of 1200 kg have been improved further in terms of their performance capability and safety compared with their predecessors. They can also be used to heat sealed and greased rolling bearings. In addition to the tabletop devices HEATER10 to HEATER300, the range also includes the standalone devices HEATER600 and HEATER1200 for larger rolling bearings. HEATER300 can also be converted to a mobile unit by means of accessories.


The scope of delivery of the induction heating devices HEATER covers a basic setup for the initial applications. The rolling bearing to be heated is either placed orizontally on the support rails or is suspended on the ledge.
Advantages of FAG heating devices:

very safe operation
high reliability (certified in accordance with the German inspection and certification body TÜV)
effective, energy-efficient heating (high efficiency level)
uniform, controlled heating
automatic demagnetisation
simple operation
high cost-effectiveness through selection of the device size most suitable for the particular application.
The heating devices have various functions.
Operating modes
The induction heating devices can be operated in the following modes:

temperature control
time control
ramp control (size HEATER40 and above)
Function
The principle of the heating device is based on a current-carrying coil with an iron core (primary coil), which generates a high induction current at low voltage in a short-circuited secondary circuit (rolling bearing or other steel part). As a result, the rolling bearing to be mounted is heated rapidly. Non-metallic components and the device itself remain cold.
FAG Heating Manager
The software FAG Heating Manager is a user-friendly tool for selection of the optimum heating device for the heating of rolling bearings.
Once the rolling bearing to be heated has been selected, the bearing type, dimensions, mass and the suitable heating device are shown.