Primary drive
Hydraulic tensioning elements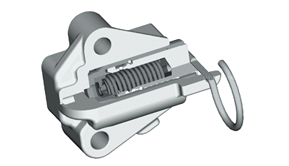 Chain drives undergo dynamic excitation due to the rotation irregularities of the drive shaft in combination with the mass inertia of the output shafts and also by changing moment support on the output shafts. The latter is particularly the case in camshafts, piston pumps, etc. In order to ensure vibration-free, quiet and low-wear operation despite these excitations, the chain oscillations caused by these influences in such drives must be calmed. The ideal solution here is damping by means of a hydraulic chain tensioning element. The best known design is the speed-dependent leakage gap damper with directional damping. For damping, this design uses oil from the engine's own reserves. For extending, the oil is sucked via a check valve into the so-called high pressure chamber. When the tensioner is pressed together, the valve closes and the oil is pressed out through a narrow gap between the piston and housing, the leakage gap.
Hydraulic tensioning elements are characterised by:
low wear due to the use of hardened steel components
finely adjustable damping by means of the so-called leakage gap
directional damping by means of the check valve
small design space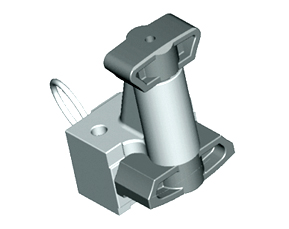 In addition, a large number of further characteristics and functions are possible as options. The tensioner for camshaft coupling drives, which includes an integral oil injection nozzle as well as chain guide and tensioning pads, is just one example. The aim is to design the ideal tensioner in terms of function and cost for any application.